Barnhardt Manufacturing
Project Size 36,000 s.f.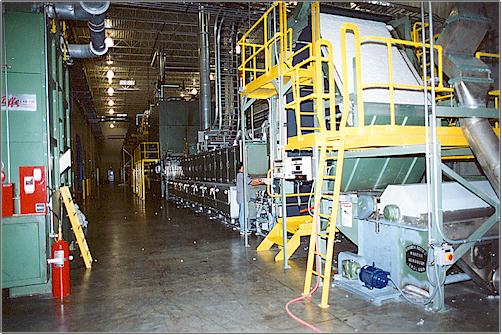 Barnhardt Manufacturing is one of the oldest continuously operating manufacturing companies in Charlotte.  Through their 100 year history, Barnhardt has grown to one of the worlds largest producers of bleached cotton for the health care, pharmaceutical, hygiene, and dental industries. This new facility and the increased capacity it will provide will make them the largest producer of this product in the world.  The facility is designed to accommodate a Bleach Process Line that Barnhardt acquired from an existing facility in England.
Barnhardt's new facility is located adjacent to their existing manufacturing complex off Hawthorne Lane in a very urban section of Charlotte.  The addition of this building represents not only a significant addition to existing complex, but also represents a significant high-tech investment in what is considered a fragile urban neighborhood.  The facility helps insure the security of Barnhardt in their market and benefits the specialty manufacturing base within urban Charlotte.
S.C. Hondros worked closely with Barnhardt plant engineers and their consultants to design the facility to accommodate this production line.  Using field surveys of the existing installation in the English facility, equipment foundations, control modules, electrical and mechanical systems were integrated into the new building.  The caustic nature of the process along with high interior humidity levels were determining factors in selecting insulated concrete precast panels for the building walls.  The interior of the panels is finished with epoxy paint to help the panels resist the moisture produced in the process.  Galvanized steel joists, girders, and decking are used to prevent any corrosion that may be caused by the caustic nature of the interior environment.
Location
Charlotte, North Carolina
Role
S.C. Hondros & Associates, Inc. – Design/Builde