Carmel South Professional Center
Project Size 60,000 sf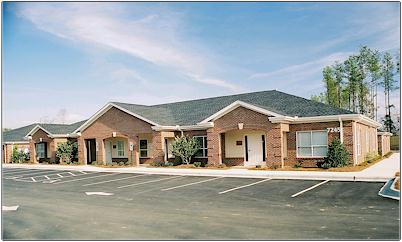 This complex of all-brick business office condominiums is located on a popular thouroughfare in south Charlotte, NC.  The project consists of seven single-story buildings: four 6,000 s.f. and three 8,000 s.f. buildings; and a sole 12,000 s.f., two-story building. They accommodate buyers requiring as little as 1,125 s.f. up to as many as 8,000 s.f. of office space. S.C. Hondros & Associates, Inc.'s design and construction professionals worked with the developer, his sales agents, and his clients to coordinate the shell and custom upfit designs and construction activities in as many as five shell buildings and six upfits simultaneously.
The "fast track" approach to planning, permitting, and constructing these buildings allowed us to sequence and optimize the work in a time critical manner, allowing the developer to give buyers the ability to occupy their space in a greatly reduced timeframe than would otherwise be possible.
The buildings are brick veneer with private covered entry porches and aluminum windows and trim, which provide for a high quality, low maintenance structures. Each suite has separate restrooms and utilities, with custom interior finishes as directed by the buyers, allowing both the developer and the buyer the greatest flexibility in design and project control.
Location
Charlotte, NC
Role
Carolinas Design Group PLLC – Civil Engineer
S.C. Hondros & Associates, Inc – Building Design / Builder